The irresistible romance of the Florida Keys has been immortalized by authors and filmmakers since the early part of this century. Here, in Islamorada, a caring, courteous staff await the return of guests for whom this legendary resort is a family tradition; and to introduce new friends to an unsurpassed wealth of leisure-time alternatives. Welcome to the Cheeca Lodge. All the treasures of the sun-drenched Caribbean... And all the pleasures of home. Splendid tropical gardens bursting with majestic palms and vibrantly flowering shrubs, two freshwater swimming pools, a saltwater lagoon and meandering ponds, six nightlit tennis courts, a par-3 nine hole golf course, a 1,100 ft. stretch of golden beach fronting some of the richest fishing waters in the world, stunning guestrooms and restaurants... these elements compromise an extraordinary 27-acre Keys hideaway.
Amenities:
Air Conditioned
Beach
Conference Facilities
Kitchen
Ocean View
Television with Cable
Tennis
Balcony
Boating
Fishing
Marina View
Pool
Wind Surfing
Bar/Lounge
Boutiques
Golf
Meeting/Banquet Facilities
Restaurant
Water Skiing
Restaurant/Lounge: Food, glorious food, for every mood and taste! the Cheeca Lodge has quickly and justly earned a national reputation for its preparation of fresh, fine, festive meals. Informal menus are offered both indoors and poolside at the Ocean Terrace Grill. relish the regional cuisine, refreshing beverages and a seasonal bounty of fresh seafood, including the local delicacy, stone crab claws.The Light Tackle Lounge is a warm, wood-paneled setting for record-size gamefish that didn't get away. It's a place to relax, before or after a day in the sun; and in the evening, there's lively piano entertainment.
Recreation: A children's recreational camp, the well-organized and professionally staffed activity center, shops filled with state-of-the-art sports equipment or up-to-the-minute resort fashions - thoughtfully planned for the Cheeca lodge guests. Stretching toward the horizon from the Atlantic shore, Cheeca's 525-ft. lighted pier continues to be a prized vantage point for fishing, daydreaming and dramatic sunrises. In addition to arranging charters to land the wily bonefish, massive tarpon and the powerful sailfish for which the Keys are famous, the experienced Cheeca recreational staff will assist guests of all ages with a variety of aquasports.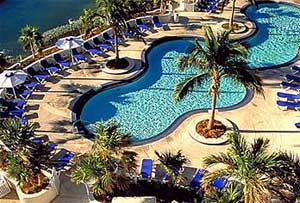 Activities: There are so many recreational possibilities, the hardest thing is finding the time to do them all. Laze in the sun, or work up a storm; swimming, snorkeling, scuba diving, parasailing, windsurfing, sailing, fishing, tennis, golf . . . Cheeca has the facilities and expert instructors, captains or pros to help you get to the top of your form. Best of all, Cheeca Lodge, just 75 miles south of Miami international airport, is far removed from the high stress bustle of modern urban living.